Elektro Magnetische Compatibiliteit (EMC) zorgt ervoor dat een toestel zijn functionaliteit blijft behouden en zelf geen ongewenste elektromagnetische straling opwekt.
Elektromagnetische straling
Deze elektromagnetische straling kan:
1. zelf door het toestel opgewekt worden (Emissie),
2. door de omgeving zijn veroorzaakt (Immuniteit).
Het labo BGEMC beschikt over de nodige infrastructuur en kennis om deze EMC testen uit te voeren.
Gebruik deze tool om snel en eenvoudig de prijs voor uw EMC-tests te berekenen.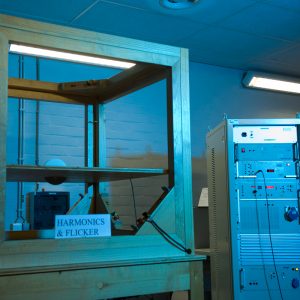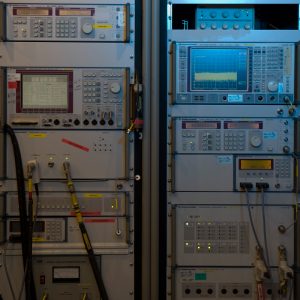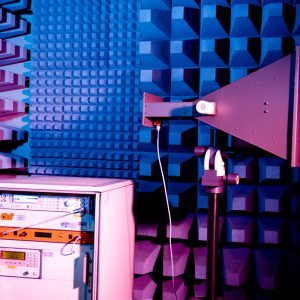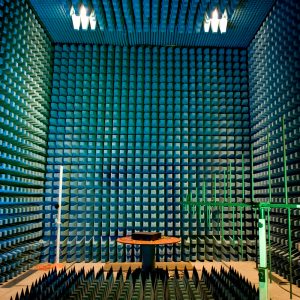 Wetgeving
1. Europa
Vooraleer een product op de Europese markt geplaatst wordt moet het product voldoen aan de essentiële eisen vermeld in de richtlijnen.
Hier zijn er verschillende richtlijnen van toepassing waaronder:
1.1 EMC richtlijn is van toepassing als het product aktieve elektronica bezit.
1.2 RED (Radio Equipment Directive) is van toepassing als het product gebruik maakt van draadloze of "terminal" apparaten.
2. Verenigde staten van Amerika
FCC metingen (enkel Emissie is van toepassing)
3. Canada
ICES metingen (enkel Emissie is van toepassing)
Het BGEMC Labo kan de EMC testen uitvoeren volgens geharmoniseerde normen om zo aan te tonen dat uw product voldoet.
Applicaties
– Informatie Technologie Apparaten (ITE)
– Medische toestellen en apparaten
– Laboratorium en Meetinstrumenten
– Automobiel
– Landbouw voertuigen
– Huishoudelijk
– Scheepvaart
– …
Normen
Onderstaande tabel geeft een overzicht van de normen volgens dewelke het BGEMC labo kan testen.
Dit is echter maar een beperkte opsomming. Aarzel niet om contact op te nemen voor specifieke vragen.
EMC infrastuctuur
Semi Anechoic Room
3 m full compliant measurements
W: 6.2 m, L: 9.5 m, H: 5.9 m
Door W: 118 cm H: 202 cm
Max. Frequency: 18 GHz
Full Anechoic Room
3 m full compliant measurements
W: 4.2 m, L: 7.4 m, H: 3.4 m
Door W: 118 cm H: 202 cm
Max. weight: 80 kg
Max. Frequency: 6 GHz
Shielded Room
W: 6.2 m, L: 9.5 m, H: 2.5 m
Helmholz coil
W: 1.2 m, L: 1.2 m, H: 1.2 m
Harmonic Current Emissions
Voltage Changes, Fluctuation and Flicker
Werkwijze
1. Full compliant testen
Indien een product tijdens de full compliant testen niet zou slagen dan kan er gezocht worden naar een aanvaardbare oplossing, hierbij kan er kostenloos overgeschakeld worden naar pre-compliant testen.
2. Advies: Mocht meer diepgaand onderzoek vereist zijn dan kan er steeds advies geleverd worden door een onafhankelijke EMC expert.

3. Pre-compliant testen
hierbij kan reeds op een prototype testen uitgevoerd worden (typisch Radiated Emissie, Conducted Emissie en Radiated Immunity).
Deze testen kunnen op twee manieren gebeuren:
– ofwel met dezelfde gekalibreerde apparatuur en door dezelfde geschoolde test ingenieurs
– ofwel door de klant zelf (onder begeleiding) met pre-compliance apparatuur
Zoals steeds is er een debug-corner met componenten en soldeerstations ter beschikking.
Europe
Standard ID
Description
Emission
Generic Standards
EN 61000-6-3
Generic Residential, Commercial and Light-industrial Environments
EN 61000-6-4
Generic Industrial Environments
Product Standards
EN 55011
Industrial, Scientific and Medical Equipment
EN 55012
Vehicles, Boats and internal Combustion Engines
EN 55013
Sound and Television Broadcast Receivers and Associated Equipment
EN 55014-1
Household Appliances, Electric Tools and similar Apparatus
EN 55022
Information Technology Equipment (ITE)
EN 55032
Multimedia Equipment
EN 55103-1
Audio, video and lighting control for professional use
Basic Standards
EN 61000-3-2
Harmonic Current Emissions
EN 61000-3-3
Voltage Changes, Fluctuation and Flicker
Immunity
Generic Standards
EN 61000-6-1
Generic Residential, Commercial and Light-industrial Environments
EN 61000-6-2
Generic Industrial Environments
Product Standards
EN 50130-4
Alarm Systems
EN 55014-2
Household Appliances, Electric Tools and similar Apparatus
EN 55024
Information Technology Equipment (ITE)
EN 55025
Vehicles, Boats and internal Combustion Engines
EN 55103-2
Audio, video and lighting control for professional use
EN 15964
Breath alcohol test devices
Basic Standards
EN 61000-4-2
ElectroStatic Discharge
EN 61000-4-3
Radiated Immunity
EN 61000-4-4
Electrical Fast Transients
EN 61000-4-5
Surges
EN 61000-4-6
Conducted Immunity
EN 61000-4-8
Magnetic Immunity
EN 61000-4-11
Voltage Dips, Short Interruptions and voltage Variation
Emission and Immunity
Product Standards
EN 60601-1-2
Medical Electrical Equipment
ETSI EN 301 489-1
Common Technical Requirements
ETSI EN 301 489-3
Short-Range Devices (SRD)
ETSI EN 301 489-7
Mobile and Portable Radio (GSM and DCS)
ETSI EN 301 489-17
Broadband Data Transmission Systems (Bluetooth, Wi-Fi)
EN 50121-3-2
Railway Applications (Rolling Stock Apparatus)
EN 50121-4
Railway Applications (Signalling and Telecommunications Apparatus)
EN 50121-5
Railway Applications (Fixed Power Supply Installations)
EN 50155
Railway Applications (Rolling Stock Apparatus)
EN 50293
Road Traffic Signal Systems
EN 50471-1
EN 50491-5-2
Home Building Electronic Systems and Building Automation (Residential, Commercial and Light Industry environment)
EN 50491-5-3
Home Building Electronic Systems and Building Automation (Industry environment)
EN 50498
Aftermarket Electronic Equipment in Vehicles
E_ECE_324 Addendum 9 Regulation 10
Approval of Vehicles
Worldwide
Standard ID
Description
Emission
Generic Standards
IEC 61000-6-3
Generic Residential, Commercial and Light-industrial Environments
IEC 61000-6-4
Generic Industrial Environments
Product Standards
CISPR 11
Industrial, Scientific and Medical Equipment
CISPR 12
Vehicles, Boats and internal Combustion Engines
CISPR 13
Sound and Television Broadcast Receivers and Associated Equipment
CISPR 14-1
Household Appliances, Electric Tools and similar Apparatus
CISPR 15
Lighting equipment
CISPR 22
Information Technology Equipment (ITE)
CISPR 32
Multimedia Equipment
Basic Standards
IEC 61000-3-2
Harmonic Current Emissions
IEC 61000-3-3
Voltage Changes, Fluctuation and Flicker
Immunity
Generic Standards
IEC 61000-6-1
Generic Residential, Commercial and Light-industrial Environments
IEC 61000-6-2
Generic Industrial Environments
Product Standards
CISPR 14-2
Household Appliances, Electric Tools and similar Apparatus
CISPR 24
Information Technology Equipment (ITE)
CIPSR 25
Vehicles, Boats and internal Combustion Engines
Basic Standards
IEC 61000-4-2
ElectroStatic Discharge
IEC 61000-4-3
Radiated Immunity
IEC 61000-4-4
Electrical Fast Transients
IEC 61000-4-5
Surges
IEC 61000-4-6
Conducted Immunity
IEC 61000-4-8
Magnetic Immunity
IEC 61000-4-11
Voltage Dips, Short Interruptions and voltage Variation
ISO 7637-2
Road vehicles. Electrical transient conduction
ISO 7637-3
Road vehicles. Electrical transient transmission
ISO 10605
Road vehicles. ElectroStatic Discharge
ISO 11452-2
Road vehicles. Radiated Immunity
Emission and Immunity
EN 60601-1-2
Medical Electrical Equipment
USA Specific
Emission
FCC Part 15
Radio Frequency Devices
FCC Part 18
Industrial, Scientific and Medical Equipment
Immunity
No requirements
Canada Specific
Emission
ICES-001
Industrial, Scientific and Medical RF Generators
ICES-003
Information Technology Equipment (ITE)
Immunity
No requirements
Australia New Zealand Specific
Emission

AS/NZS 61000.6.3
Generic Residential, Commercial and Light-industrial Environments
AS/NZS 61000.6.4
Generic Industrial Environments
Immunity

AS/NZS 61000.6.1
Generic Residential, Commercial and Light-industrial Environments
AS/NZS 61000.6.2
Generic Industrial Environments