ElectroMagnetic Compatibility (EMC) ensures that the functionality of a device remains preserved and no unwanted electromagnetic radiation is generated.
Electromagnetic radiation
This electromagnetic radiation can be:
1. generated by the device itself (Emission)
2. generated by the surroundings (Immunity).
The BGEMC lab has the necessary infrastructure and expertise to execute these EMC tests.
Use this tool to quickly and easily calculate the price for your EMC-tests.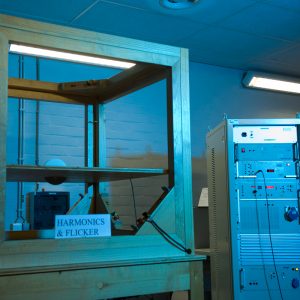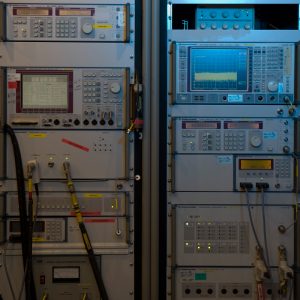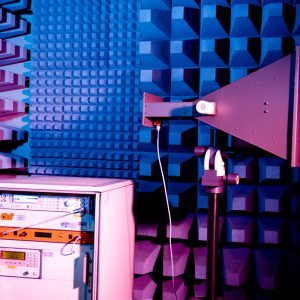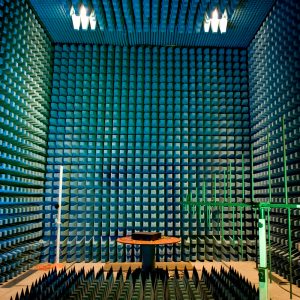 Legislation
1. Europe
Before a product is placed on the European market the product must meet the essential requirements listed in the directives.
Various guidelines apply, including:
1.1 EMC directive applies when the product has active electronic components on board.
1.2 RED (Radio Equipment Directive) applies when the product uses wireless or "terminal" equipment.
2. United States of America
FCC testing (only Emission is applicable)
3. Canada
ICES testing (only Emission is applicable)
The BGEMC Lab can execute EMC tests according to harmonised standards in order to prove that your product complies.
Applications
– Information Technology Equipment (ITE)
– Medical devices and appliances
– Laboratory and measuring equipment
– Automotive
– Agricultural vehicles
– Household
– Marine
– …
Standards
The table below gives an overview of the standards according to which the BGEMC lab can test.
However, this is only a limited list. Don't hesitate to contact us for any specific question.
EMC infrastructure
Semi Anechoic Room
3 m full compliant measurements
W: 6.2 m, L: 9.5 m, H: 5.9 m
Door W: 118 cm H: 202 cm
Max. Frequency: 18 GHz
Full Anechoic Room
3 m full compliant measurements
W: 4.2 m, L: 7.4 m, H: 3.4 m
Door W: 118 cm H: 202 cm
Max. weight: 80 kg
Max. Frequency: 6 GHz
Shielded Room
W: 6.2 m, L: 9.5 m, H: 2.5 m
Helmholz coil
W: 1.2 m, L: 1.2 m, H: 1.2 m
Harmonic Current Emissions
Voltage Changes, Fluctuation and Flicker
Operating procedure
1. Full compliant testing
In case a product fails during the full compliant test an acceptable solution will be looked for, possibly we can switch free of charge to pre-compliant testing.
2. Advice: In case more in-depth research is required the advice of an independent EMC-expert can be appealed to.

3. Pre-compliant testing
Appropriate for testing a prototype (typically Radiated Emission, Conducted Emission and Radiated Immunity).
Tests are executed using the same calibrated equipment and by the same skilled test engineers.
Europe
Standard ID
Description
Emission
Generic Standards
EN 61000-6-3
Generic Residential, Commercial and Light-industrial Environments
EN 61000-6-4
Generic Industrial Environments
Product Standards
EN 55011
Industrial, Scientific and Medical Equipment
EN 55012
Vehicles, Boats and internal Combustion Engines
EN 55013
Sound and Television Broadcast Receivers and Associated Equipment
EN 55014-1
Household Appliances, Electric Tools and similar Apparatus
EN 55022
Information Technology Equipment (ITE)
EN 55032
Multimedia Equipment
EN 55103-1
Audio, video and lighting control for professional use
Basic Standards
EN 61000-3-2
Harmonic Current Emissions
EN 61000-3-3
Voltage Changes, Fluctuation and Flicker
Immunity
Generic Standards
EN 61000-6-1
Generic Residential, Commercial and Light-industrial Environments
EN 61000-6-2
Generic Industrial Environments
Product Standards
EN 50130-4
Alarm Systems
EN 55014-2
Household Appliances, Electric Tools and similar Apparatus
EN 55024
Information Technology Equipment (ITE)
EN 55025
Vehicles, Boats and internal Combustion Engines
EN 55103-2
Audio, video and lighting control for professional use
EN 15964
Breath alcohol test devices
Basic Standards
EN 61000-4-2
ElectroStatic Discharge
EN 61000-4-3
Radiated Immunity
EN 61000-4-4
Electrical Fast Transients
EN 61000-4-5
Surges
EN 61000-4-6
Conducted Immunity
EN 61000-4-8
Magnetic Immunity
EN 61000-4-11
Voltage Dips, Short Interruptions and voltage Variation
Emission and Immunity
Product Standards
EN 60601-1-2
Medical Electrical Equipment
ETSI EN 301 489-1
Common Technical Requirements
ETSI EN 301 489-3
Short-Range Devices (SRD)
ETSI EN 301 489-7
Mobile and Portable Radio (GSM and DCS)
ETSI EN 301 489-17
Broadband Data Transmission Systems (Bluetooth, Wi-Fi)
EN 50121-3-2
Railway Applications (Rolling Stock Apparatus)
EN 50121-4
Railway Applications (Signalling and Telecommunications Apparatus)
EN 50121-5
Railway Applications (Fixed Power Supply Installations)
EN 50155
Railway Applications (Rolling Stock Apparatus)
EN 50293
Road Traffic Signal Systems
EN 50471-1
EN 50491-5-2
Home Building Electronic Systems and Building Automation (Residential, Commercial and Light Industry environment)
EN 50491-5-3
Home Building Electronic Systems and Building Automation (Industry environment)
EN 50498
Aftermarket Electronic Equipment in Vehicles
E_ECE_324 Addendum 9 Regulation 10
Approval of Vehicles
Worldwide
Standard ID
Description
Emission
Generic Standards
IEC 61000-6-3
Generic Residential, Commercial and Light-industrial Environments
IEC 61000-6-4
Generic Industrial Environments
Product Standards
CISPR 11
Industrial, Scientific and Medical Equipment
CISPR 12
Vehicles, Boats and internal Combustion Engines
CISPR 13
Sound and Television Broadcast Receivers and Associated Equipment
CISPR 14-1
Household Appliances, Electric Tools and similar Apparatus
CISPR 15
Lighting equipment
CISPR 22
Information Technology Equipment (ITE)
CISPR 32
Multimedia Equipment
Basic Standards
IEC 61000-3-2
Harmonic Current Emissions
IEC 61000-3-3
Voltage Changes, Fluctuation and Flicker
Immunity
Generic Standards
IEC 61000-6-1
Generic Residential, Commercial and Light-industrial Environments
IEC 61000-6-2
Generic Industrial Environments
Product Standards
CISPR 14-2
Household Appliances, Electric Tools and similar Apparatus
CISPR 24
Information Technology Equipment (ITE)
CIPSR 25
Vehicles, Boats and internal Combustion Engines
Basic Standards
IEC 61000-4-2
ElectroStatic Discharge
IEC 61000-4-3
Radiated Immunity
IEC 61000-4-4
Electrical Fast Transients
IEC 61000-4-5
Surges
IEC 61000-4-6
Conducted Immunity
IEC 61000-4-8
Magnetic Immunity
IEC 61000-4-11
Voltage Dips, Short Interruptions and voltage Variation
ISO 7637-2
Road vehicles. Electrical transient conduction
ISO 7637-3
Road vehicles. Electrical transient transmission
ISO 10605
Road vehicles. ElectroStatic Discharge
ISO 11452-2
Road vehicles. Radiated Immunity
Emission and Immunity
EN 60601-1-2
Medical Electrical Equipment
USA Specific
Emission
FCC Part 15
Radio Frequency Devices
FCC Part 18
Industrial, Scientific and Medical Equipment
Immunity
No requirements
Canada Specific
Emission
ICES-001
Industrial, Scientific and Medical RF Generators
ICES-003
Information Technology Equipment (ITE)
Immunity
No requirements
Australia New Zealand Specific
Emission

AS/NZS 61000.6.3
Generic Residential, Commercial and Light-industrial Environments
AS/NZS 61000.6.4
Generic Industrial Environments
Immunity

AS/NZS 61000.6.1
Generic Residential, Commercial and Light-industrial Environments
AS/NZS 61000.6.2
Generic Industrial Environments